Connect to Your Computer…From Anywhere
Posted by Jonathan Williams
Aug 24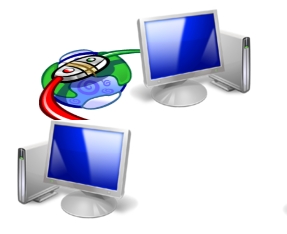 Have you ever found yourself on vacation and in need of a file that's on your home computer?  Or maybe, you'd just like to be able to access your multiple computers from multiple places.  Forget expensive services like GoToMyPC.  Instead, opt for a free alternative.  This service can really help you get more done.
For about a year now, I've been using a free (as in FREE) service from a company named LogMeIn.  And that's pronouned Log…Me…In, by the way.  It's not some new dish at the local Chinese takeout.
LogMeIn has a full suite of services, but two in particular are likely to offer the free functionality that you'll find helpful.  Here's a rundown on the two services.
LogMeIn Free
The first service allows you to securely connect to your PC through any web browser.  In essence, it will open up your desktop in a browser window.  What you see through the browser is what you'd see if you were sitting right in front of the PC in your home.
LogMeIn Hamachi2
The second service links your various PCs so that they appear to be in the same network group…meaning you can share files and use your remote desktop client.  They are linked as if they were all at the same site.
5 Reasons Your Should Use LogMeIn
So, let me sum up the top five reasons you should use one of the flavors of LogMeIn.
It's Free – You pay nothing for personal use of these services.
It's Secure – Your data is encrypted. It's safe.
It's Simple – Although LogMeIn may sound geeky, anyone can use it!
It's Convenient – You will save time.  You can work on files from anywhere.  No more driving back to the house to get the files you need.
It's Cross-Compatible – The browser-based version can be used on PC & Mac.
So, check it out!  This could be just the thing you've been waiting for.  No complicated port forwarding or other advanced router stuff.  Just a great product that's simple to use.
Here's a video clip that shows how easy it is to set up LogMeIn Free.