The "I just work here" Attitude
Posted by Jonathan Williams
Sep 24
I love Wal-Mart… really, I do.  I easily visit a couple of times a week.  Whether living in Virginia or living in Florida, I have always lived just a few tenths of a mile from the retail giant.  In Virginia, I could see it from my front home.  But unfortunately, Wal-Mart has a problem… well they probably have several problems… every organization does.  But, for today, their problem involves the "I just work here" attitude.  This is the attitude that happens when someone feels no responsibility for the impact of the organization.  It may be that they are not empowered to make a difference, or it may be that they are not motivated to do so.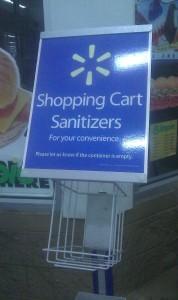 So, a couple of nights ago, I went to Wal-Mart.  As I walked in, I snapped the picture to the right.  The picture shows the display that offers sanitary wipes that can be used to clean your shopping cart.  Well, the sign says, "Please let us know if the container is empty."  Well as you can tell from the picture, there is no container there at all.  So, being the upstanding citizen that I am, I politely told the notorious "Wal-Mart greeter" about the problem.  The gentleman quickly replied, "We're all out.  Sorry."  Well… Now, if I had seen this sign and gotten this response from someone at an office building, church, school, or restaurant, that answer would have been mildly acceptable.  But the thing is, we were at WAL-MART!  You can't just get away with that answer at Wal-Mart.  Are you telling me there aren't any containers of Clorox wipes or even diaper wipes on the shelves of the entire store?!?  Not even an off-brand wipe you could put out there?  I'm certain they weren't truly "all out."  The bottom line is that this greeter was communicating that the sanitary outage wasn't his fault and wasn't his area of oversight.  Boo on that!
But here's the deal, how often do we do this at our work place or at our church?  Being of the mindset that "It's not my problem. I just work here" is horrible and unproductive.  And at church, it hinders the movement of God.  You are impeding God's work when you choose not to be part of the solution.  Please, don't stand against God!  That's a dangerous place to be.  So, next time your church is out of toilet paper, paper towels, or pens, or the next time the trash needs to be picked up or emptied, or the next time the parking lot is full, or the next time a visitor looks lost, be part of the solution.  It's the right thing to do.